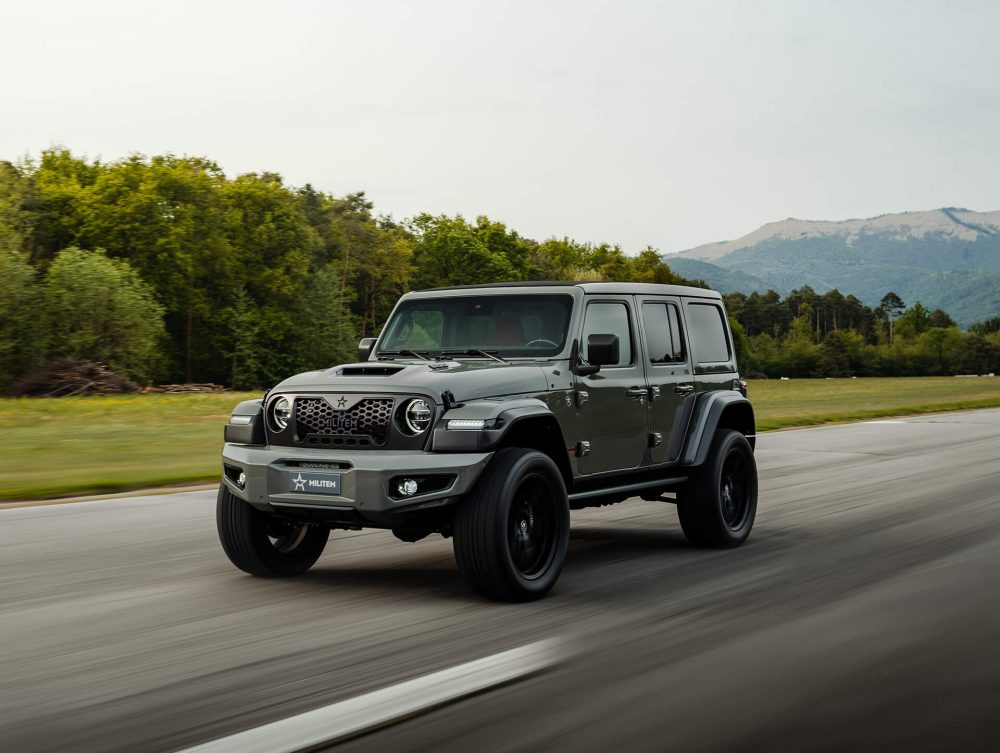 6 June 2022
MILITEM presents the all-new FEROX 500 at its first German dealership, AUTOHAUS ULMEN in Düsseldorf.
FERŌX 500 gives life to the new Extreme Utility Vehicle-EUV category; extremely powerful units suited to any conditions. The model is the maximum expression of MILITEM's sporty vision and delivers extraordinary performance, both on-road and off, with the chance to choose between two different tire types.
MILITEM FERŌX 500 is a real supercar, with over 470 bhp and 637 Nm of torque at 4.300 rpm. It accelerates from 0 to 100 km/h in only 4.5 seconds!
What's new in MILITEM FERŌX 500
Its high performance requires adequate braking and so here's the new set-up with 370 mm machined front discs and aluminum calipers featuring six pistons. Meanwhile, the suspension, re-engineered and manufactured by MILITEM, provides a greater ride height thanks to the 2-inch Lift-Kit and the double-tank shock absorbers with separate gas tanks and double hydraulic effect, in aluminum and with a carbon coating.
FERŌX 500 presents a completely fresh look, one that underlines its aggressive soul and highlights its connotation with other supercars. The distinctive 'wide body' exterior is maintained, enriched with unique elements, and dedicated to this model.
For the first time on the FERŌX range, the spare wheel and the air scoops on the tailgate have disappeared. The whole structure has been completely re-worked and now the cabin air flows out through the rear tailights.
Luxurious MILITEM interior
The interior of the MILITEM FERŌX 500 is completely hand-finished. This is a luxurious and unique space to be. The racing shell seats are perfect for a sporty ride; they are finished in hand-stretched nappa leather and Alcantara, with contrasting colors and stitching.
The new MILITEM FERŌX 500 steering wheel presents racing features. The flattened lower and the upper parts of the crown are crafted from carbon fiber with gloss finishing for a true supercar look. Clients can also opt a leather finish to the dashboard, instrument panel, steering wheel and gear shift knob, as well as the doors and trunk.
Discover more here.