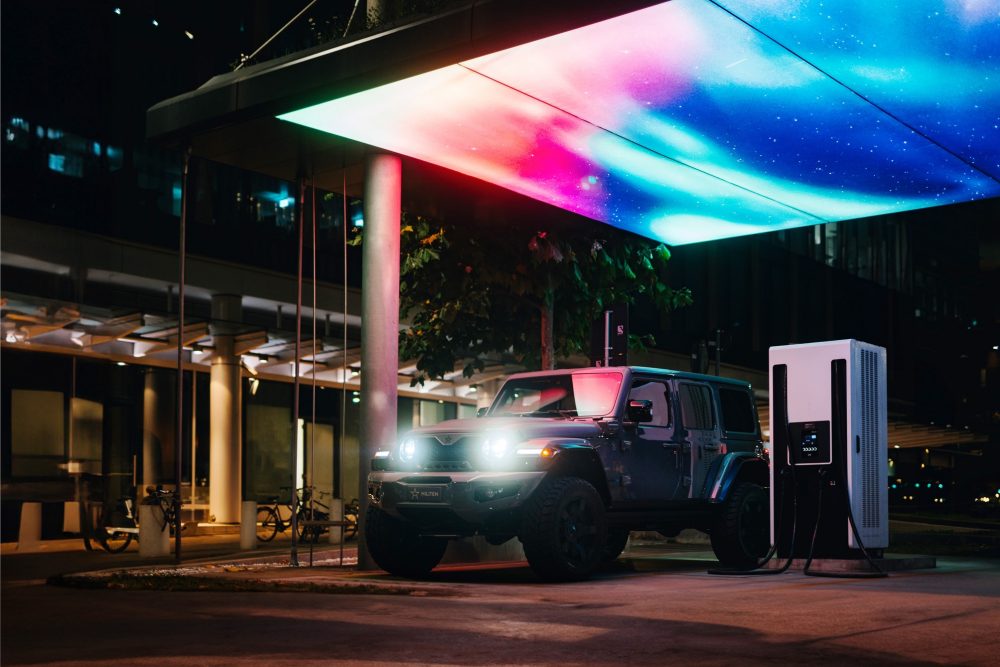 20 July 2023
Thoughts on this booming market from Hermes Cavarzan, CEO Of Militem.
Monza, 18 July 2023 – Numbers don't lie. The electric car market is also growing steadily in Italy. On a year-to-date basis, the growth of hybrid vehicles compared to the same period in 2022 is +31%, supported by an interesting +6.5% of PHEV (Plug-in Hybrid Electric Vehicle) versions. To understand the trends and developments in this segment, we have a chat with Hermes Cavarzan, CEO of MILITEM, on the occasion of the launch of MILITEM FERŌX-E, the first PHEV in the 'American tech-italian made' MILITEM luxury range.
In the context of the strong expansion of electric hybrids, how does MILITEM's choice of the new FERŌX-E fit in?
MILITEM's audience is looking for unique and exclusive products. They are discerning drivers, who dream of climbing aboard an SUV that sets them apart and takes them to pristine beaches, snow-capped mountains, star-studded restaurants or a harbour from which to set sail, and to enjoy MILITEM style throughout the journey. Today, with the new FERŌX-E, we once again confirm the three values that have been the pillars of the brand since its inception: Safety, Innovation and Sustainability. 
The MILITEM SUV and pick-up range has always had both Hybrid and Mild Hybrid versions with Flex Fuel and Be-Fuel, which allows the use of E85 (bioethanol), LPG or E 95 / E 98 biofuels.
With FERŌX-E we continue on this path and take a further step forward with a decidedly 'green' and zero-emission plug-in hybrid system in full electric mode, which is the goal for all of us for the present and the future. 
What is the main advantage of this technology?
In addition to being more environmentally friendly due to its significantly reduced CO2 emissions compared to a similar model equipped with a conventional internal combustion engine, a plug-in hybrid vehicle such as the FEROX E delivers mileage on a par with, if not higher than, diesels. 
What's more, the addition of two electric motors in combination with the heat engine allows it to deliver higher power outputs. Finally, hybrid cars break down any mobility restrictions imposed by the limited access areas of many city centres, being able to circulate freely everywhere, unlike cars with only a combustion engine.
Let's take a closer look at market trends. How do you interpret the growth figures for the electric segment?  
In the automotive sector, the hybrid-electric segment is experiencing significant growth, fuelled by a few aspects. The first is the increased environmental awareness of consumers, driven by concerns about climate change and air pollution to consider low- or zero-emission vehicles. 
Added to this is the clear step forward in battery technology, which is capable of offering longer life, and in the performance of hybrid models, which offer respectable performance and an extraordinary driving experience.
FERŌX-E is a shining example: a 4×4 SUV with 380 hp, 637 Nm of torque and a 0-100 km/h acceleration of 6.4 seconds, which can also count on the efficiency of its two electric motors and three driving modes (Hybrid, Full Electric and E-Save) capable of driving anywhere from historic city centres to the most demanding off-road routes. 
As a consequence of the above trends, what are the significant opportunities and developments for this segment in the immediate future? 
There are several opportunities. One of these is certainly the expansion of the charging infrastructure to encourage demand for BEVs, PHEVs and hybrids, which is increasingly moving towards the purchase and rental of Hybrid PHEVs. Demand that will also increase in the form of corporate fleets with a view to sustainability and emission reduction on the part of companies. In addition, there is a development opportunity in the area of connected technologies: the integration of connected functionalities in hybrid vehicles can further enhance the driving experience.