The evolution of the iconic RAM Pick-Up, able to overcome any obstacle
Buckle up and dream big. Dream even bigger in the MILITEM MAGNUM pick-up. Dominant on any terrain, both on and off-road, the MILITEM MAGNUM 4×4 is ready to support your natural desire to stand out. Its imposing size, powerful performance and elegant cabin combine to offer all the emotions and sense of freedom you'll ever need.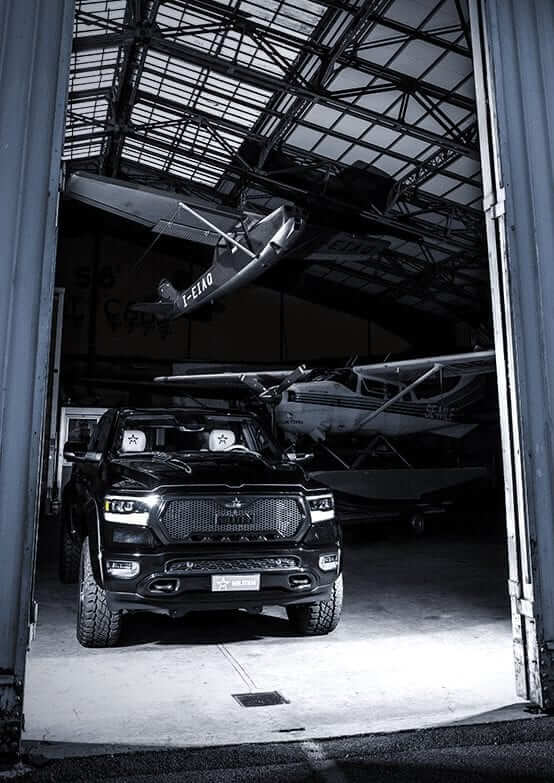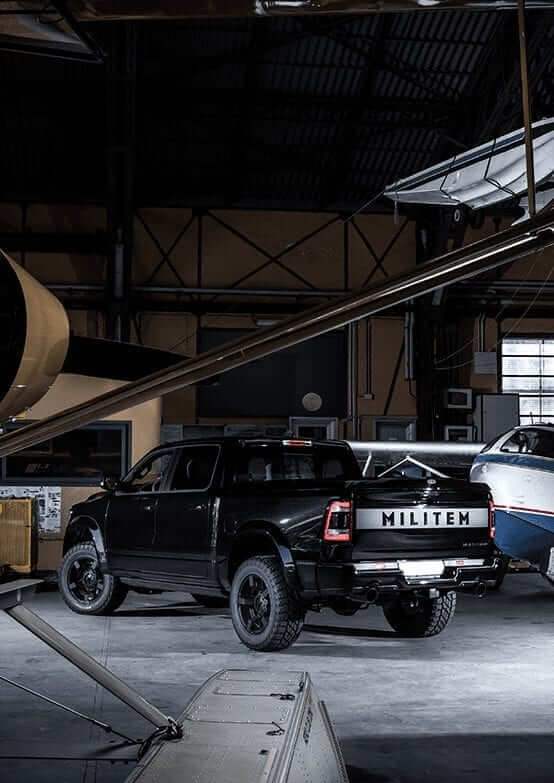 MILITEM MAGNUM is much more than a modified RAM 1500 Laramie pick-up: it is an astonishing jewel. The mighty dimensions of this new luxury pick-up are enhanced by its eye-catching look: an exclusive MILITEM grille, Extra Tire Coverage MILITEM mudguards and Black Edition MILITEM alloy rims.
If the car you says something about you, the MILITEM MAGNUM communicates pure charisma.
A commanding size and distinctive styling give the MILITEM MAGNUM its unmistakable looks. The majestic cabin is sumptuous and exquisitely finished thanks to the expertise of master craftsmen. Relax in the ventilated seats, interact with the 12" infotainment technology and enjoy the premium HI-FI with its 12 Harman Kardon speakers. An integrated navigation system will direct you towards incredible adventures in a unique and iconic American 4×4 modified by MILITEM's Italian artisans.
Each journey is a challenge. Come out on top
MILITEM MAGNUM turns traditional ideas about motoring safety on their head. It is extremely solid and powerful, allowing you to take on any terrain with poise: the oversized All-Terrain tires and Lift Kit 5" Extreme Performance MILITEM suspension ensures top-drawer performance and superb comfort levels.
A superior American pick-up
Each MILITEM MAGNUM pick-up is the perfect blend of American DNA and Italian craftsmanship. From the plush carpets, the special color finishes and the Black Performance MILITEM twin tailpipes, every detail contributes to making this extraordinary MILITEM unique. Just like you.