Every changing is a new beginning. With the new exclusive MILITEM pick-up, everything will be more exciting.
Call it commercial truck: pick-up future is today.
Strong, Cutting-age and Charismatic, that's how we want to define our latest creation. Gladiator DNA here is expressed under a new body. Engineers and designers from our Factory have developed its evolution, in terms of both performance and style.
MILITEM FERŌX-T is no more a Jeep, it is a tactical vehicle able to overcome limits that for most 4x4s are impossible.
Much of the merit goes to the new MILITEM suspension system, developed for matching the new design. Made of aluminum and coated in carbon fiber, they are adjustable to meet every needs.
The dumping frequency of the shock absorbers has been adapted specifically for the higher ground clearance resulting from the MILITEM Lift-Kit 2″. In addition, thanks to the standard 4×4 Rock-Trac, the driver can choose different driving and traction modes of the four-wheel drive system.
Finally, interior accents in full black, gives a luxurious yet sporty touch to the entire cabin.
With MILITEM FERŌX-T we introduced, for the first time, the rack coverage in marine hi-tech material, customizable in colors.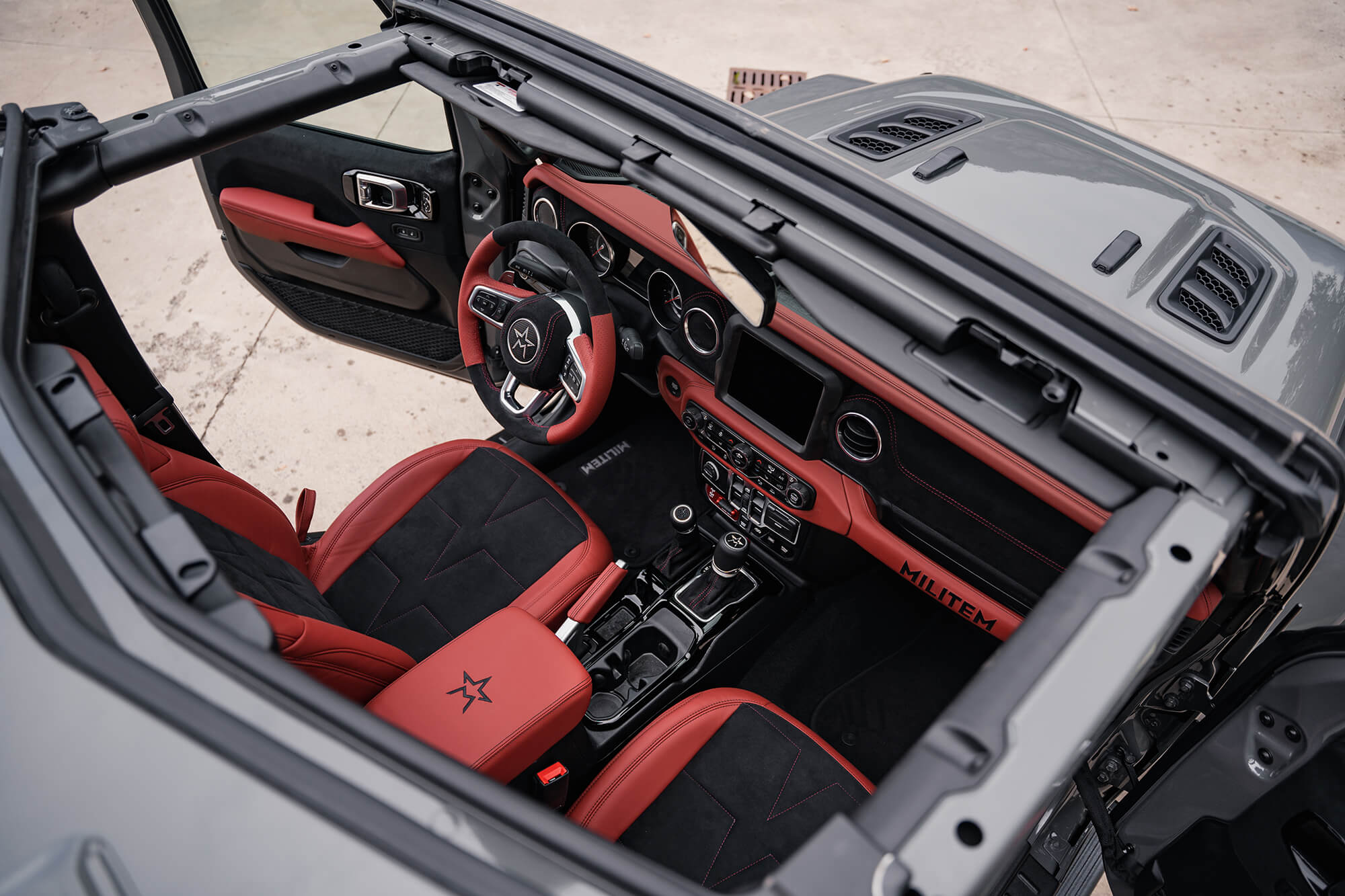 Whatever your destination, reach it without compromise.
As Safe, Stable, Determined in the driving as in the character. For an efficient handling on every ground and at every speed, MILITEM FERŌX-T exploits latest industry technologies and mounts 35 x 12.50 R20 All-terrain tires, adjustable Track Bars and a dedicated steering shock absorber. With FERŌX-T, we introduced the first ever FERŌX Bar, standard. Its design, made to host powered LED bars, goes beyond the functionality and redefine the the body shape of the vehicle. Darkness will never be an obstacle again.
Jeep Wrangler JL Unlimited | SAHARA | RUBICON
272 CV, 400 Nm | 285 CV, 260 Nm