MILITEM HERO makes you a main player on any stage
Fire up the engine and live like a star with the MILITEM HERO. Prepare to dominate any road with power in an epic experience. Grip the steering wheel and discover the original, inimitable and safe soul of this all-wheel drive luxury SUV.
MILITEM HERO, the evolution of the Jeep Renegade. Style that stirs the emotions.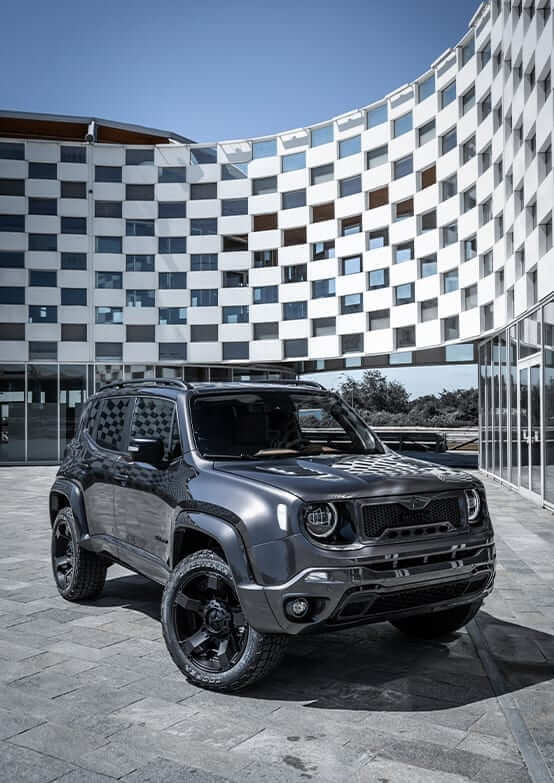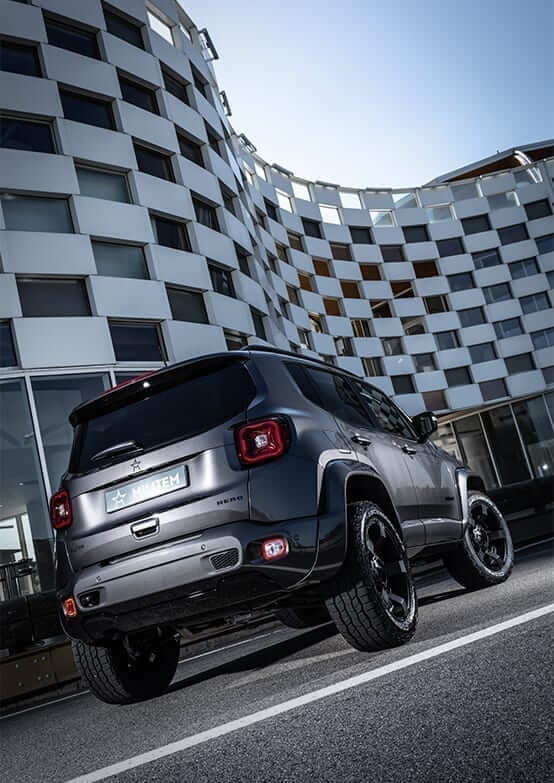 Daring, captivating and contemporary. This exclusive model based on the Jeep Renegade is a beacon of class and design in the luxury SUV category.
MILITEM Hero has a decisive personality in a compact size: raised ride height with Extreme Performance MILITEM dampeners, exclusive MILITEM grille, oversized All-Terrain tires and 20" MILITEM Black Edition rims. The Urban SUV Hero means immediate performance, durability and safety.
Dynamic on the outside and welcoming inside. The interior leather has been hand-stitched by master upholsterers. They have transformed the cabin of the MILITEM Hero into a stylish space that knows no equal. MILITEM selects only top quality full-grain Italian leather, Alcantara and the finest nappa for its interiors and seats. These are enhanced with a refined black finish to provide a luxurious look that will satisfy those who settle for nothing but the best.
The maximum expression of reliability
If the car is safe, you are safe: MILITEM HERO is the perfect urban SUV. At the wheel, HERO's oversized tires deliver excellent grip and stability while the innovative Lift Kit 1.5 Extreme Performance MILITEM suspension, entirely developed and built in Italy, improves handling, overall drivability and roadholding even in extreme conditions.
An unforgettable sensorial experience
As you caress the top-quality leather that wraps the steering wheel, you will appreciate the sound of the modified 200 bhp 1.3L petrol turbo engine or the 190 bhp 2.0L multi-jet turbo diesel. Take in the character bestowed by the front-end bodywork slashes, allow your gaze to wander over the sporty design of the MILITEM front bumpers and breathe in the scent of leather that hits you as soon as you open the doors. The personality of the MILITEM Hero stimulates all the senses.
Jeep Renegade | LIMITED | TRAILHAWK
1.3L Turbo | 2.0L MULTIJET
200 HP – 270 Nm | 190 HP – 350 Nm
Jeep Renegade | LIMITED | TRAILHAWK
1.3L Turbo | 2.0 MULTIJET
200 bhp, 270 Nm | 190 bhp, 350 Nm